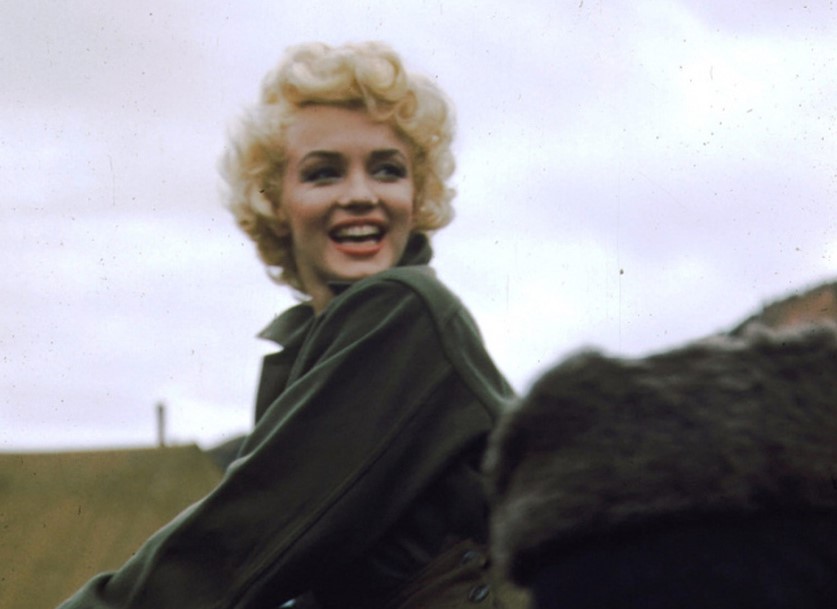 In February of 1954, Marilyn Monroe and her new husband, Joe DiMaggio, a Yankee baseball legend, were travelling to Japan on their honeymoon, when Monroe was approached by an officer and asked if she would be willing to perform for some troops in Korea. The famous pair were travelling with their friends, Frank O'Doul and his wife Jean. DiMaggio and O'Doul were scheduled to help coach and train Japanese baseball teams for the coming season, so Monroe agreed, figuring she would have some downtime.
During the next two weeks, Monroe received her clearance papers to become an official USO entertainer and her required vaccinations. She left Tokyo with her friend Jean O'Doul, and the two were escorted to Seoul by a US Army entertainment officer.
Their first stop was the 1st Marine Division camp, located remotely in the nearby mountains. Upon seeing the thousands of marines lining up to see her, Monroe asked the pilot to circle low as she laid on her stomach, leaning out the door (held only in place by two soldiers holding her feet) to wave back and blow kisses to the men below.
Once she landed, she changed into the now famous purple, spaghetti strap dress and gold heels and emerged onto a makeshift stage in front of thousands of marines. Through the snow and sleet sprinkling the stage, she sang "Diamonds are a Girl's Best Friend" and "Do It Again". Monroe would later tell Hollywood screenwriter and director Ben Hecht: "There were seventeen thousand soldiers in front of me yelling at the top of their lungs. I stood there smiling at them. It had started snowing, but I felt warm, as if I were standing in the bright sun. I've always been frightened by large audiences, but standing in the snowfall facing these shouting soldiers, I felt no fear for the first time. I only felt happy. I felt at home." Despite the freezing temperatures, it was said Monroe never complained about the conditions or arrangements, and even turned down electric blankets and space heaters.
One of her next performances took place at the Bulldozer Bowl, which was the USO's stage in Cheorwon Valley, where she performed for the US Army's 2nd Infantry Division. Allegedly, soldiers were claiming "dibs" on front row seats seven hours before she even arrived. It was another brutally cold day in February, and Monroe walked out on stage in a heavy parka. In the middle of her song, she stopped singing and said 'That's not what you came to see' and removed the parka to reveal her low cut, purple dress. One soldier would later recall that she brought so much joy to a group of combat-weary soldiers, especially those who watched from the sick bay and those who hiked several miles over the frozen terrain to see her. After the concert, she patiently waited on stage, as hundreds lined up for photos and autographs.
When another performance was delayed, the troops were outraged. Monroe was overwhelmed by their enthusiasm, and was lifted onto a tank so she could pose and wave to the crowd that had amassed to see her.
Through her next few performances, she was consistently described as humble and caring. A few photographers were allowed on stage with her, and several would later recall that she genuinely cared about everyone and felt blessed to be there to perform. Despite the temperatures, she was never in a rush or hurry, and took time to ask everyone about their families and civilian lives.
Her final show was for the 45th Division, and at the end of the performance she stood on stage for a solid half-hour blowing kisses to the adoring audience. She had tears in her eyes as she bid farewell to the crowd one last time before take-off.
Her tour lasted 4 days, during which she performed for as many soldiers as she could. Monroe came down with a severe case of bronchial pneumonia due to her exposure to the icy and mountainous conditions. But despite the resulting illness, she would later explain that she never felt like a celebrity until she performed in front of those troops. Monroe kept that purple dress as a memento for the rest of her life, and several audience members have said they would never forget her performance for the rest of theirs.