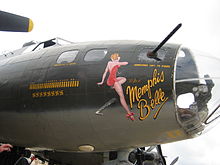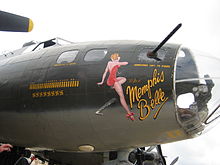 On May 17, 1943, the crew of the Memphis Belle, one of a group of American bombers based in Britain, becomes the first B-17 crew to complete 25 missions over Europe.
Belle participated in some of the most hazardous raids of the war, when the Luftwaffe still had a commanding fighter superiority and defenses of the Nazi regime were strong. She was bullet-ridden, flak-battered and on five separate occasions had one of her engines shot out. But she slugged it out with Messerschmitts and Focke Wulfs and absorbed their cannon fire without flinching. The longest period the storied plane was out of service was five days, when transportation difficulties delayed a wing replacement.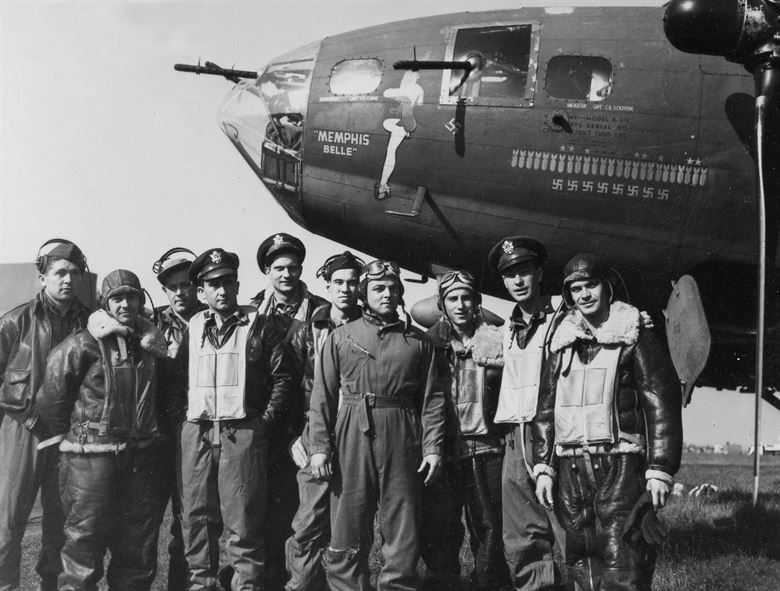 During her 25 combat missions, Belle's gunners were credited with destroying eight enemy fighters, but they also probably destroyed five others and damaged at least a dozen more. Her crew dropped more than 60 tons of bombs over France, Germany and Belgium, knocking out supply depots, railway yards, aircraft plants and an assortment of military bases. With amazing accuracy—thanks in no small part to the sterling work of bombardier Vincent B. Evans—Belle's crew blasted the Focke Wulf plant at Bremen, locks at St. Nazaire and Brest, docks and shipbuilding installations at Wilhelmshaven, railroad yards at Rouen, submarine pens and powerhouses at Lorient and aircraft factories at Antwerp.
Although Belle's crew members earned 51 decorations, only one Purple Heart was awarded—to tail gunner John Quinlan, who described his wound as a pin scratch on the leg. Each of the crew received the Distinguished Flying Cross and the Air Medal with three oak leaf clusters.