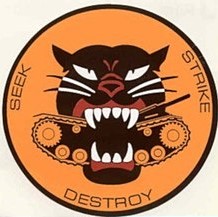 The tank destroyer battalion was a type of unit used by the United States Army during World War II. The unit was organized in one of two different forms—a towed battalion equipped with anti-tank guns, or a mechanized battalion equipped with armored self-propelled guns. The tank destroyer units were formed in response to the German use of massed formations of armored vehicles units early in WWII. The tank destroyer concept envisioned the battalions acting as independent units that would respond at high speed to large enemy tank attacks. In this role, they would be attached in groups or brigades to corps or armies. In practice, they were usually individually attached to infantry divisions. Over one hundred battalions were formed, of which more than half saw combat service. The force was disbanded shortly after the end of the war when the concept had been shown to be militarily unsound.
By far the largest employment of tank destroyer units was in the north-western Europe campaign through France, the Low Countries and Germany. They were employed from the very beginning of the campaign, with one battalion being landed on Utah Beach in a follow-up wave on D-Day.
The most significant employment of tank destroyers in Normandy was in early August, at the Battle of Mortain, where the 823rd Tank Destroyer Battalion (towed 3-inch guns) was on the defensive alongside the 30th Infantry Division. The division, which was in temporary positions and not prepared for a defensive engagement, was attacked by elements of four panzer divisions on 6 August, under heavy fog. The 823rd put up a strong defense—knocking out fourteen tanks—but took heavy losses, being mostly overrun and losing eleven guns. This served to reinforce misgivings about the effectiveness of the towed units, and a report delivered to the Pentagon in December recommended they be phased out in favor of self-propelled units.