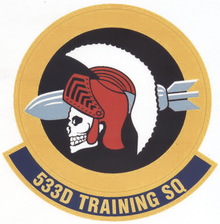 The 533d was constituted as the 533d Bombardment Squadron and activated as a part of the 381st Bombardment Group, Heavy on 3 November 1942, at Gowen Field, Idaho. Soon after, the 533d trained under II Bomber Command at Pyote Army Air Field, Texas, where the first two phases of unit training took place. The rest of the training was conducted at Pueblo Army Air Base, Colorado and in the simulations throughout the country. Received deployment orders for the European Theater of Operations in May 1943.
During the three years before its inactivation, the 533d Bombardment Squadron was part of the rapid buildup of the Army Air Forces in the European Theater of Operations. At that time, the Eighth Air Force and the Royal Air Force Bomber Command were engaged in a combined bomber offensive against strategic targets in Nazi Germany and Occupied Europe. Equipped with Boeing B-17 Flying Fortresses, the 533d was a part of many bombardment raids. These included the campaigns in Normandy, Northern France, Rhineland, Ardennes-Alsace and Central Europe. The 533d also bombed targets in support of the Battle of the Bulge.
After V-E Day, the unit returned to Sioux Falls Army Air Field, South Dakota, in July 1945, although many combat personnel were demobilized upon return to the United States. A small cadre of personnel were formed with replacement personnel assigned. The unit was programmed for conversion to Boeing B-29 Superfortress very heavy bombers however no aircraft were assigned. The Japanese Capitulation in early August led to the units inactivation on 28 August, with personnel either reassigned to other units or demobilized.