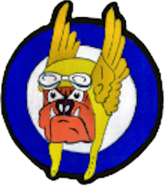 Activated on 15 November 1942 at Hamilton Field, California, initially equipped with P-39 Airacobras and assigned to IV Fighter Command for training. Moved to several bases in California and Nevada then to Portland Army Air Base, Oregon in June 1943 and re-equipped with new North American P-51B Mustangs. Transitioned to the Mustang throughout the summer of 1943 the deployed to the European Theater of Operations, being assigned to IX Fighter Command in England.
In late 1943, the strategic bombardment campaign over Occupied Europe and Nazi Germany being conducted by VIII Bomber Command was taking heavy losses in aircraft and flight crews as the VIII Fighter Command's Lockheed P-38 Lightnings and Republic P-47 Thunderbolts lacked the range to escort the heavy B-17 Flying Fortress and B-24 Liberator bombers deep into Germany to attack industrial and military targets. The P-51 had the range to perform the escort duties and the unit's operational control was transferred to Headquarters, Eighth Air Force to perform escort missions. From its base at RAF Boxted, the unit flew long-range strategic escort missions with VIII Bomber Command groups, escorting the heavy bombers to targets such as Frankfurt, Leipzig, Augsburg, and Schweinfurt, engaging Luftwaffe day interceptors frequently, with the P-51s outperforming the German Bf 109 and Fw 190 interceptors, causing heavy losses to the Luftwaffe. Remained under operational control of Eighth Air Force until April 1944, when sufficient numbers of P-51D Mustangs and arrived from the United States and were assigned to VIII Fighter Command units for escort duty.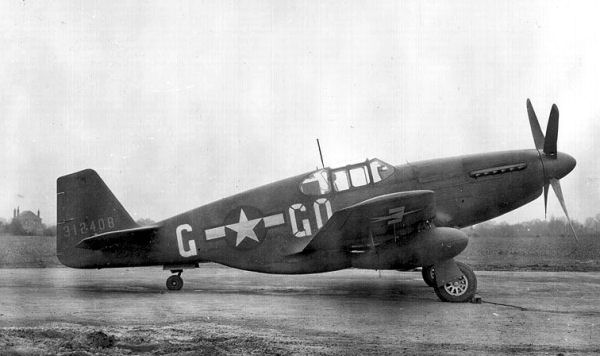 They were relieved from escort duty and were re-equipped with P-47D Thunderbolts, and reassigned to RAF Lashenden on the southern coast of England. The mission was redefined to provide tactical air support for the forthcoming invasion of France, to support the Third, and later Ninth United States Armies. They flew fighter sweeps over Normandy and along the English Channel coast of France and the Low Countries, April–June 1944, then engaged in heavy tactical bombing of enemy military targets as well as roads, railroads and bridges in the Normandy area to support ground forces in the immediate aftermath of D-Day.